Like most periods in history, the era of knights evolved gradually. The term "knight" originates from the Anglo-Saxon name for a boy: "cniht". Indeed, most early knights were not much more than hired "boys" who performed military service and took oaths of loyalty to any well-to-do nobleman or warlord offering the most promise of money or war booty.
In the chaos and danger of post-Roman Western Europe, the population had very little organized governmental protection from brigands and conquering warbands. Knowing there was safety in numbers, local lords (who could afford it) gathered around them young, fighting-age men to fend off rebellious vassals or conquering neighbors. These men, in turn, were rewarded with war booty for their service and loyalty. Soon, grants of land were made so the young soldiers could receive an income from those lands and afford the high cost of outfitting themselves with the accoutrements of war, such as horses, armor, and weapons. The era of the medieval knight had begun.
It wasn't long before some knights began to treat their land grants as hereditary rights (usually transferring ownership to the eldest son upon death), thus beginning the rise of knights as a "landed" class whose importance went beyond simply being a military "free-agent". Knights soon found themselves involved in local politics, the dispensation of justice, and numerous other required tasks for their sovereign, or liege lord.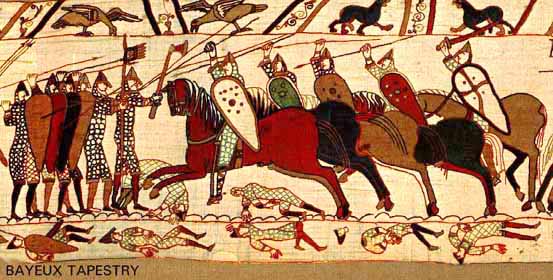 The knight's effectiveness depended greatly on his ability to stay mounted on his horse during combat. With the advent of the stirrup during the 8th and 9th centuries, a man could brace himself on horseback as he charged the ranks of his enemy, transferring the power of man and charging horse onto his opponent. This "shock" combat by mounted men armed with a spear or couched lance, and protected with armor, proved a powerful military innovation.